By P. A. Wilson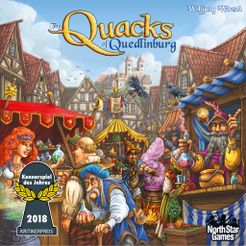 Rank: 8.8 out of 10 stars
This is my first board game review. What I hope to accomplish with these reviews is to introduce you to a new game and help you determine whether the game is a good fit for you. I will consider and rank five criteria: gameplay, design, strategy, originality, and replayability.
The Quacks of Quedlinburg is a board game that I have played many times with my family. This game made my top ten favorite board games for a reason! I will explain why it deserves such a ranking below. But first, a quick description of the game and its features.
Description
The Quacks of Quedlinburg is a Push-Your-Luck game where you play as a quack doctor brewing potions for the market.
You start the game with a pouch of tokens. After the first player draws a card that determines the special scenario for the round, each player simultaneously places tokens in their pot. The tokens have a value on them that determines the number of spaces they progress in the pot.
You can check out more of her content at http://chroniclesofpawilson.com